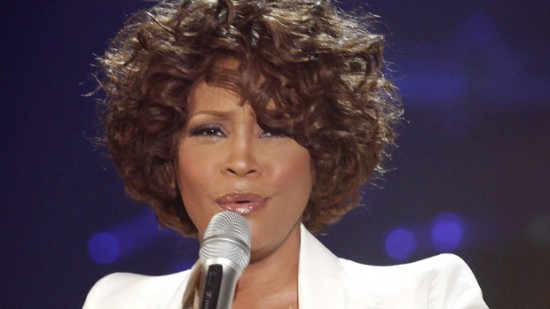 As music lovers all around the world mourn the
latest death of a musical icon
, I feel that it's only right to add a couple of my thoughts on the late great
Whitney Houston
. For the record, I did a whole lot of laughing and joking at the expense of Whitney, Bobby and Bobbi Christina. So I understand the potential hypocritical situation I may be putting myself into. I embrace it as much as I embrace being lucky enough to witness one of the greatest singers of my lifetime.
Slightly lost in the midst of all of the jokes that ensued from Whitney's battle with drug abuse and recovery-- including the infamous "
show me the receipts
" and
Wendy Williams
interviews and a
reality show
-- was her supernatural talent. As the incidents of depravity began to trump the music and her real talent, it became too easy to laugh at what Whitney had become while easily forgetting what she had once been. Then again, maybe it was the full understanding of her greatness and how far away she had gotten that made the jokes so easy to laugh at even if you simultaneously found them overwhelmingly depressing. Whitney Houston's story could very well be the classic embodiment of laughing to keep from crying.
I know some of you will find that laughable because I definitely had to read it a few times to see if I even believed it to be true. Here's how I knew it was the truth: I'm sitting here watching back-to-back Whitney Houston videos on VH1 and I'm taken aback by just how deep her catalogue runs. I felt like I had a good handle on all of her classics but I'm watching videos of songs that had definitely slipped through my mental cracks (no pun intended). The ultimate take away from this video smorgasbord is how talented Whitney was. The crispness of her voice, the depth and richness of the words she channeled through her gifted vocal cords; her generally understated beauty. How could the jokes have been anything other than a cover for the pain of seeing someone "familiar" seemingly throw her talent -- and life -- away so recklessly?
The Girl We Knew, But Didn't
What's so interesting about Whitney Houston is that even at the height of her celebrity and genius, she still felt like someone you "knew." Think about that for a moment. At the point that she was arguably the most popular and celebrated singer in the world, Whitney simultaneously felt like our daughter, sister, aunt, cousin and friend. In the most literal way possible, she was
every woman
. And it's that exact reason that made the world flip out when word got out that she and Mr. "My Prerogative" were getting married. I was a pre-teen at the time and a Bobby Brown fan so I didn't see the big deal but I know there were a whole lot of people pissed off that "an angel" was marrying such a bad boy (no Combs). Now that I'm older, when I look back on it I get it. Tthere
was
a reason they were attracted to each other.
Right from the start, the new musical power couple told us that they had
something in common
. It's safe to say that none of us knew exactly what that meant. So when shit really started to get bad -- publicly beginning with Whitney's appearance at the
Michael Jackson 30th Anniversary concert
in NY -- it was easy to blame Bobby. He had the reputation and, later, the
rap sheet
that confirmed what everyone thought. And it took a few years for us to collectively realize that as influential as we thought Bobby was, Whitney had her own demons.
Around the same time, we also realized that the "girl next door" image we had grown to know and love had been carefully crafted by Clive Davis. Really, who could blame Davis for doing it? It's undeniable that Whitney had an otherworldly talent, but, it's also undeniable that America would not have accepted and embraced a black female in the same way they did if Whitney had been presented with her character flaws.
SIDEBAR
: That's the distinct difference between Whitney and Amy Winehouse. Winehouse's rise to prominence wasn't hindered by her "train wreck" personal life in part because of what we all had experienced with Whitney. And the glorification of "train wreck" wasn't a viable option in the 80's.
The Icon
When it's all said and done, Whitney Houston is a talent the world may never see again. She came to us with a bevy of credibility and made songs that, much like Michael Jackson, introduced a whole new level of soul in pop music. That may sound extremely easy to do today, as pop music has become an all-consuming genre, but it wasn't in Whitney's prime. So while critics lamented early on about her decision to stay pop while ignoring the traditional R&B/soul lane, Whitney and her team did what they thought best and grew her sound over time. The proof of whether or not they made the right decision is evident. It's nearly impossible to overstate her talent and understand the full extent of her impact on the world.
It seems like we've been losing our musical icons at an increasingly fast rate these past few years. I don't know if it's simply because I'm older and more aware of the impact these people have had on my life and the lives of those around me. Whitney's death has reminded me of two very distinctive moments in my life with the first girl I ever loved. These moments happened decades apart from each other and it's surreal to think about how big of a role a Whitney Houston song played in them. For those two moments alone, Whitney Houston will always be remembered as an all-time legend.
Whitney Houston had more classics than I could even think to post, so I narrowed them down to two and a bonus:
Star Spangled Banner live at Super Bowl
The most inspiring rendition EVER!!!
I Will Always Love You
The height of her iconness!
Finally, because even in these moments of mourning, you still need to smile.
#RIP Whitney Houston. You live forever through your music.